Tempo di lettura:
2
minuti
Il cielo plumbeo e alcuni scrosci di pioggia non hanno intimorito le migliaia di appassionati accorsi domenica 9 luglio  per la seconda edizione di Cars & Coffee a Lugano.
Oltre 100 le vetture sulla piazza del LAC di Lugano e lungo Riva Vincenzo Vela. Un'accoglienza straordinaria di famiglie e appassionati che hanno reso ancora più memorabile la giornata dei partecipanti al Cars & Coffee.
Nella mattina, a circa un'ora di distanza da Lugano, le automobili si erano raccolte sulla sponda del Lago Maggiore per la parte dedicata esclusivamente ai proprietari e ai loro ospiti: qui sono giunte le prime sorprese con l'arrivo di una LaFerrari inattesa, con un wrap celeste opaco, decisamente coordinato con lo sfondo del lago in sottofondo. Attorno alla sportivissima del Cavallino Rampante si sono disposte poi una Porsche 918 Spyder, una Carrera GT, F12tdf, alcune 458 Speciale, Lamborghini Huracan Performante, Aventador SV, Aventador 50 Anniversario, Mercedes CLK Black Series, McLaren 720S, 675LT Spider, 991.2 GT3, Bentley Supersports, GT3-R, solo per citarne alcune.
Tra queste anche l'auto vincitrice del premio Best of the Show, la Ferrari F12tdf gialla. La proprietaria, durante il pranzo, ha ricevuto in premio un modellino di Fiat 500 in oro, uno degli otto esemplari prodotti da fratellidoro per celebrare i 60 anni del modello simbolo del Boom economico italiano.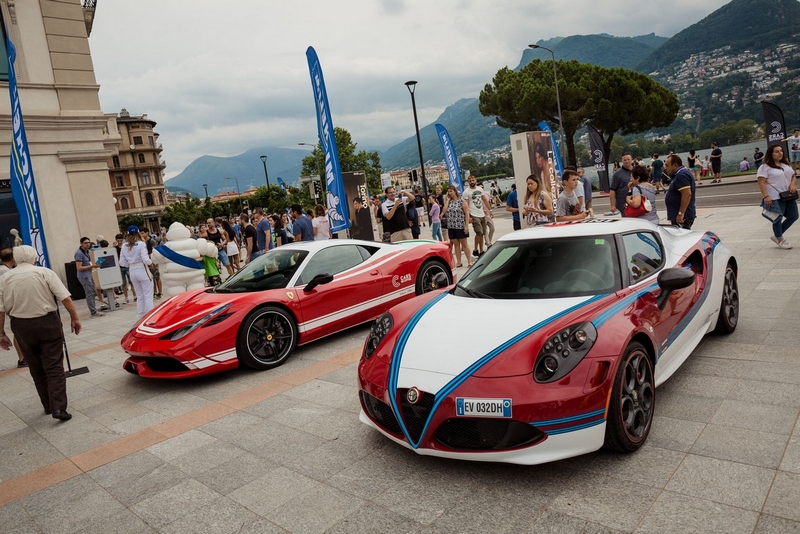 Alle 15.30 le automobili sono giunte a Lugano per quella che si è rivelata una vera festa per tutti, due ali di folla hanno accolto la carovana di dreamcar che si sono poi disposte lungo la via che costeggia il Ceresio. Le tre ore successive sono state le più attese per il pubblico, giunto da tutta l'Europa centrale per ammirare la carovana di auto aperta dalla 458 Speciale Cars & Coffee.
La domenica in Canton Ticino ha confermato, ancora una volta, che il format degli eventi Cars & Coffee permette a tutti di divertirsi e condividere la propria passione per i motori, dentro e fuori dall'abitacolo.
I prossimi appuntamenti dei main event C&C includono Londra, Roma, Dubai, Ginevra, Miami. Ogni settimana inoltre si svolgono Cars & Coffee in tutto il mondo, nella sola giornata del 9 luglio, in contemporanea con Lugano si sono tenuti il primo C&C a Trinidad & Tobago e il sesto Cars & Coffee Meet & Drive in Cile.